New Hope is more than doctors and nurses.
We're caregivers who truly care.
Learn more below.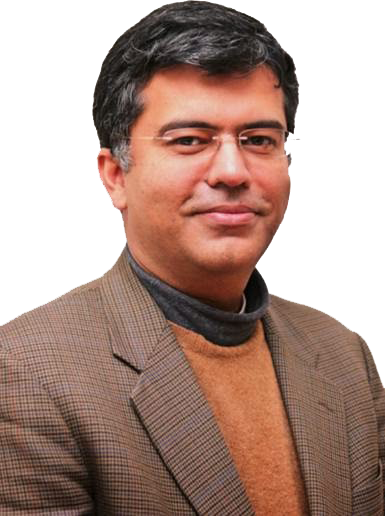 Rumi is a co-founder of New Hope Valley Assisted Living and Memory Care. He earned his Bachelor of Arts from Ohio Wesleyan University and his MBA in Policy Studies and Finance from the University of Chicago. After working for 15 years in investment banking & corporate strategy roles, Rumi founded New Hope Partners to meet the needs of seniors in their communities. He resides in Saginaw Township with his wife Jennifer and three children Alia, Amaya, and Jibran.
Show More
Rumi founded New Hope as more than a facility for the aged it was developed to bring vitality and help give hope to those in need of assistance. At its core New Hope has been designed to create real communities in which its residents get to continue their purposeful and meaningful lives. It is this foundation that has led to New Hope receiving ratings in the top 1% of the nation for care. Recipients of the Top Rated Caring Star Community and Provider awards for 2014 and 2015 on care.com. Learn more here.
As the population of the world and the United States ages, patterns have started to emerge around what optimal aging looks like. As we know, there is no "right path" to aging that works for everyone. However, there are ingredients of success we can observe and learn from. This article highlights those ingredients.
The recognized concepts of human wellness include caring for our physical, emotional, social, intellectual and spiritual well-being. Nourishing these needs by taking a lifelong learning approach is a good starting point to optimal aging – that is, seeking ideas that stimulate and support our wellness needs. Lifelong learners open their senses to a vast array of outlets like music, poetry, dance and philosophy. The key is to dive into learning without allowing it to overwhelm you.
An optimal aging idea that cuts across cultures, religions and geographies is starting the day with an individual practice such as meditation, prayer, reading, movement or playing a musical instrument. These practices lead to a peaceful inner state. For some people, great ways to welcome a new day include deep breathing exercises, morning walks, and prayer.
Hello, my name is Elizabeth Delaney.
I am the Business Office Manager at New Hope White Lake. We are a brand-new all-inclusive senior living community offering Assisted Living and Memory Care. Prior to my role with New Hope, I have worked in skilled nursing as a life enrichment & social work assistant, caregiver in memory care, and as a sales manager for memory care. As a result, this is a new adventure for me I am so excited to learn the operations side of senior living! I love spending time with the residents listening to their stories and learning from their past. I also enjoy that when the resident and their family walk in the doors to New Hope, our family expands. It is an honor and privilege to care for, love, learn from, and support our residents!
When I am not working, I enjoy spending time with my partner, Eric (of 14 years), and our 10-year-old son Emmit. I also enjoy volunteering, reading, and exercising. The last two years I have been involved with the Walk to End Alzheimer's committee. I have been involved in playground builds in my hometown, and always look for new opportunities.
I am also proud to be part of the Lakes Area Chamber of Commerce as an ambassador! They feel like another family, assist others, and help to create an amazing community to live and work in.
My name is Karen Nance CDM CFPP,  I'm the new Dining Room Manager here at New Hope of White Lake. My thirty-year career has been primarily spent in the senior living segment of the industry.
I enjoy challenging myself continuously even in aspects of my own job with which I'm familiar with. In this busy industry if I'm not at work you'll find me either gardening, attending my pets or out fishing just to mention a few.
I am excited to work with such a great team and share my area of expertise with the community at New Hope.
Catherine Donovan is the Life Enrichment Director at New Hope White Lake. She looks forward to working and having fun with the residents and their loved ones! Catherine's background includes many years working with the aging community, starting as a volunteer for the Activity Director at a local assisted living community while in high school. Her previous roles include private caregiver, dietary aide, community transition coordinator, and activities coordinator.
Catherine earned her Bachelor of Arts degree in Social Work from Michigan State University, Go Green! She continued her education and graduated from Wayne State University in 2021 with her Masters in Social Work, with a focus in group settings and programming. Catherine enjoys many hobbies including jigsaw puzzles, logic problems, movies, crafting, trying new food, spending time with loved ones, and dog walks.
Catherine lives in Clarkston with her boyfriend and their four fur animals, two dogs and two cats. She looks forward to getting to know the residents and having a great time!
Director of Resident Care
Shannon's love for this line of services goes as far back as she can remember, always trying to be helpful to those in need of care. Shannon has a vast array of previous work experience. She started as a certified nurse assistant through a high school co-op program and went on to work at Lourdes Nursing Home in Waterford. From there she went on to work at Crittenton Hospital. During her time there she acquired two separate associate degrees from Oakland Community College. One as a surgical technologist and the other in nursing. She retired after 30 years of service at Crittenton Hospital. Geriatric nursing has always been her passion. She has worked in both assisted living and memory care settings for the past 4 years. The last 2 1/2 years she served as the Director of Nursing. I love to spend time with my family and enjoy going camping. I have three chocolate Labradors, (that I adore) Ivey, Duke, and Sturgill.
 In the Great Lakes Bay Region, several opportunities are available to lifelong learners. They range from enrolling in some of the 200 classes of Saginaw Valley State University's Osher Life Long Learning Institute (OLLI), to participating in the Saginaw and Midland chapters of People to People, an organization founded in 1956 by President Dwight D. Eisenhower to promote international understanding and friendship through educational, cultural and humanitarian activities.
Lifelong learning can be a wonderful way to stimulate intellectual capabilities. Research on Alzheimer's has shown that a brain-healthy lifestyle may prevent Alzheimer's symptoms and slow down, or even reverse, deterioration. Lumosity.com is a great website that enables individuals to improve brain health and performance through various exercises. Lumosity founders have worked with researchers from several universities, including Stanford and Johns Hopkins, to create games and exercises that improve core cognitive abilities and enable users to remember more, think faster, and perform better.
Another universal wellness concept is helping our fellow human beings. As the Dalai Lama said, "If you want others to be happy, practice compassion. If you want to be happy, practice compassion." A simple act of kindness not only connects us with a fellow human being, but also has a multiplier effect that improves our lives and the lives of those around us. So let's engage in at least one act of impromptu kindness today, and make it a habit to do so each day.