New Hope is more than doctors and nurses.
We're caregivers who truly care.
Learn more below.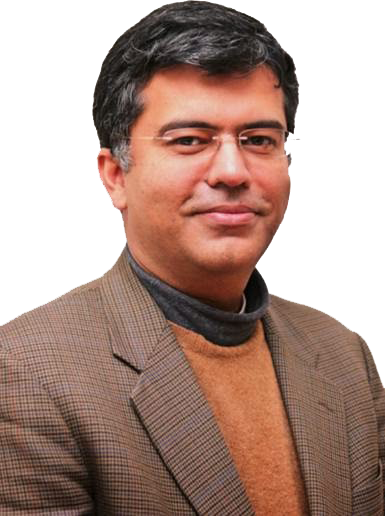 Rumi is a co-founder of New Hope Valley Assisted Living and Memory Care. He earned his Bachelor of Arts from Ohio Wesleyan University and his MBA in Policy Studies and Finance from the University of Chicago. After working for 15 years in investment banking & corporate strategy roles, Rumi founded New Hope Partners to meet the needs of seniors in their communities. He resides in Saginaw Township with his wife Jennifer and three children Alia, Amaya, and Jibran.
Show More
Rumi founded New Hope as more than a facility for the aged it was developed to bring vitality and help give hope to those in need of assistance. At its core New Hope has been designed to create real communities in which its residents get to continue their purposeful and meaningful lives. It is this foundation that has led to New Hope receiving ratings in the top 1% of the nation for care. Recipients of the Top Rated Caring Star Community and Provider awards for 2014 and 2015 on care.com. Learn more here.
As the population of the world and the United States ages, patterns have started to emerge around what optimal aging looks like. As we know, there is no "right path" to aging that works for everyone. However, there are ingredients of success we can observe and learn from. This article highlights those ingredients.
The recognized concepts of human wellness include caring for our physical, emotional, social, intellectual and spiritual well-being. Nourishing these needs by taking a lifelong learning approach is a good starting point to optimal aging – that is, seeking ideas that stimulate and support our wellness needs. Lifelong learners open their senses to a vast array of outlets like music, poetry, dance and philosophy. The key is to dive into learning without allowing it to overwhelm you.
An optimal aging idea that cuts across cultures, religions and geographies is starting the day with an individual practice such as meditation, prayer, reading, movement or playing a musical instrument. These practices lead to a peaceful inner state. For some people, great ways to welcome a new day include deep breathing exercises, morning walks, and prayer.
Christie Petiprin was named New Hope White Lake Executive Director.
"I am honored to serve the families and residents of NHWL. It is a true passion of mine to enrich the lives of those we serve."
Christie Petiprin was born and raised in Oakland County. She spent her school years in Waterford School District. After high school, Christie studied Gerontology (the study of aging) at Madonna University in Livonia, MI. While there, she earned her Bachelor of Science degree and excelled as a student-athlete within the basketball program. Christie also received certificates in Dementia Care, Care Management, and Activity & Program Planning. 
Continuing education has been a vital part of her career and overall lifestyle. After college, she got her Certified Dementia Practitioner (CDP) certification.
Christie resides nearby in Commerce Township with her husband Jason, and their 3 children.
"I look forward to meeting those individuals and families looking for senior living options in White Lake. New Hope White Lake will offer Independent Living, Assisted Living, and Memory Care options. To be able to help and serve people in the area I love (and grew up in) is very exciting! For those that are passionate about this population, understand it's a calling…I am so grateful that this is my career and what I get to do every day!"
Director of Resident Care
Tim is the Director of Resident Care. He discovered his calling to help people back in 1998 when he earned his E.M.T. and Firefighter, so he could volunteer in Thurmont, Maryland.  As a young man he accepted jobs in several blue-collar trades, including smelting aluminum and the construction trades.  During the housing crash of 2008 he sat down and re-evaluated his career and knew his true calling was helping those in need.  He then earned his technical certificate in nursing assistance.  He has worked in many different nursing settings including skilled rehab, long term care, emergency room, operating room, psychiatric, cardiac intensive care unit, and medical/surgical intensive care unit.  He attended Pasco Hernando State College (in Florida) where he obtained his nursing degree in 2019.  In 2020, his family relocated to Michigan.  Tim's passion is helping anyone in need, getting them to smile, and hopefully laugh along the way.  He is also very familiar with technology and enjoys fixing anything that is broken. His grandmother always told him that, "what you do in life will come back to you. Good or bad, not usually by the same person, but it comes back around." He prides himself in giving back to the community and lives by the philosophy of "doing it for the right reason."  
In the Great Lakes Bay Region, several opportunities are available to lifelong learners. They range from enrolling in some of the 200 classes of Saginaw Valley State University's Osher Life Long Learning Institute (OLLI), to participating in the Saginaw and Midland chapters of People to People, an organization founded in 1956 by President Dwight D. Eisenhower to promote international understanding and friendship through educational, cultural and humanitarian activities.
Lifelong learning can be a wonderful way to stimulate intellectual capabilities. Research on Alzheimer's has shown that a brain-healthy lifestyle may prevent Alzheimer's symptoms and slow down, or even reverse, deterioration. Lumosity.com is a great website that enables individuals to improve brain health and performance through various exercises. Lumosity founders have worked with researchers from several universities, including Stanford and Johns Hopkins, to create games and exercises that improve core cognitive abilities and enable users to remember more, think faster, and perform better.
Another universal wellness concept is helping our fellow human beings. As the Dalai Lama said, "If you want others to be happy, practice compassion. If you want to be happy, practice compassion." A simple act of kindness not only connects us with a fellow human being, but also has a multiplier effect that improves our lives and the lives of those around us. So let's engage in at least one act of impromptu kindness today, and make it a habit to do so each day.
Give us a call
248-886-6700
Mon-Sun 9am-6pm
Email us
Visit us
450 S. Williams Lake Road
White Lake, MI 48386
Mon-Sun 9am-6pm